Quality 4.0: Challenges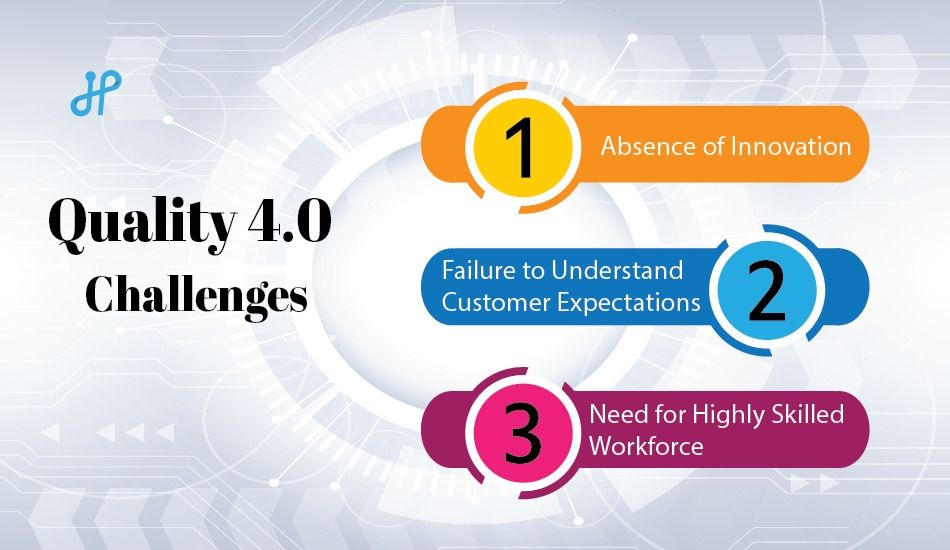 Though Quality 4.0 offers myriad benefits, it also poses specific challenges for organizations, such as:
- Absence of Innovation
Stable operations require organizations to consider innovation and quality principles.
It may be difficult for the organization to achieve its transformation goals if it does not embrace quality standards and innovation.
- Failure to Understand Customer Expectations
Quality assurance is an institutional practice that controls how a company develops and delivers its business offerings.
Understanding client expectations and the problems with value-added delivery is crucial at the same time.
- Need for a Highly Skilled Workforce
Quality Implementation necessitates a highly skilled workforce. Therefore, organizations must carefully plan to skill their workforce to meet the digital skills shortage.
Aside from these, high training costs, lack of support from top management, and the need for a cultural change are the other challenges posed by Quality 4.0.
Furthermore, investing in Quality 4.0 creates a cost dilemma in terms of prevention and assessment because of the high technology investment.
It is possible, however, to mitigate these costs by reducing internal and external failure costs in the long run.
Advantages of Implementing Quality 4.0
Quality 4.0 offers several advantages that overshadow its drawbacks. For instance:
It minimizes faults in the manufacturing process and enables organizations to offer customers customized, high-quality business offerings.
It helps identify current challenges and increase their odds of success.
Helps understand customer needs
Simplifies data analysis and reporting
Facilitates quick and seamless delivery of services
Minimizes the risk of human errors
Enhances efficiency
Reduces risks and expenses
Helps maintain transparency
Wrapping Up
Though Quality 4.0 is underrated, it is gaining traction across industries. It allows you to keep up with the times by fostering a more transparent, accountable, and collaborative environment. It can assist you in creating a unique organizational culture via intelligent operations and high-quality data-driven perspectives.
A successful quality strategy enables your organization to achieve excellence by addressing recurring quality concerns driven by issues such as lack of cross-functional responsibility, poor communication, and malfunctioning conventional management processes.
It is also noteworthy that the Quality 4.0 program calls for commitment and conviction. A company will surely succeed if the top-level management is committed to implementing technology-driven Quality 4.0 practices backed by Industry 4.0 principles.