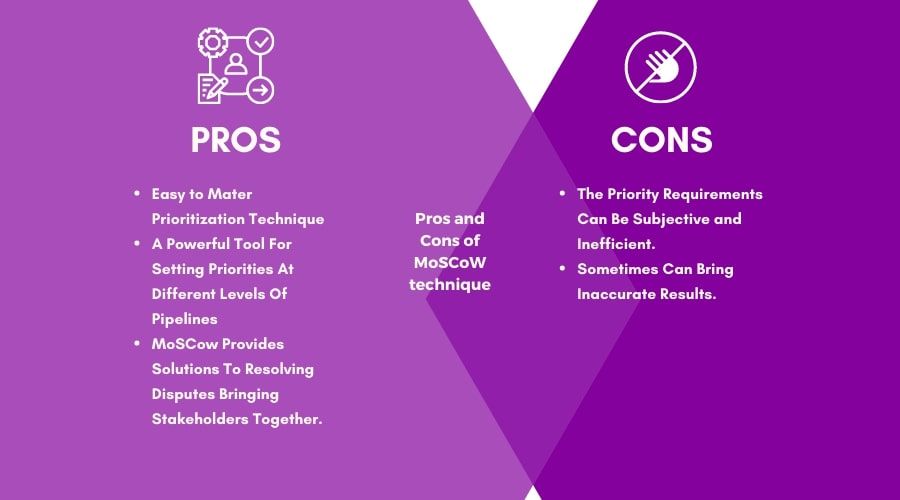 Cons of MoSCoW prioritization:
Subjectivity in prioritization: MoSCoW relies on subjective judgment and interpretation of priority levels by project team members and stakeholders. This can sometimes result in differing opinions or biases in prioritizing requirements, leading to potential conflicts or misalignment.
Lack of granularity: MoSCoW categorizes requirements into broad priority levels, which may not provide enough granularity for complex projects or products. It may not capture nuances or dependencies between requirements, resulting in potential gaps or overlaps in prioritization.
Potential neglect of Could have requirements: Could have requirements, which are desirable but not critical, may be overlooked or deprioritized in favor of Must have and Should have requirements. This can result in potential missed opportunities for adding value to the project or product.
Limited focus on long-term vision: MoSCoW prioritizes requirements based on immediate project needs, which may not always align with long-term strategic vision or business goals. This can result in potential misalignment between short-term and long-term priorities, leading to suboptimal outcomes in the long run.
Conclusion
By using the MoSCoW rule, project teams can prioritize requirements effectively, focus on delivering the most critical and valuable requirements, and ensure project success by aligning with business goals, customer needs, and project constraints.
It helps in optimizing the project scope, managing stakeholder expectations, and delivering value incrementally, leading to a successful project outcome. However, it also has limitations in terms of subjectivity, lack of granularity, and potential neglect of non-critical requirements.
Project teams should carefully consider the pros and cons and adapt the MoSCoW technique to suit their specific project context and requirements.