React Classes & Hooks
In React version <=16.7, if we are creating any component with state or which can access the react life cycle methods, it has to be a class component. We can create a class component by extending React.Component class of React and using render() function which will return HTML.
Hooks were introduced from >=React 16.8 versions. Basically, Hooks are the functions that provide us to write stateful logic, which was only possible in the Class component, but with the help of hooks, we can write the same logic separately and reuse that logic.
Overview About React Hooks
Hooks are functions that let you "hook into" React state and lifecycle features from functional components. Hooks don't work inside classes, instead, let you use React without classes.
By using hooks, we can remove the nesting, only left is our render function which is of pure rendering logic. We have some pre-built hooks like- useState, useEffect, and useContext-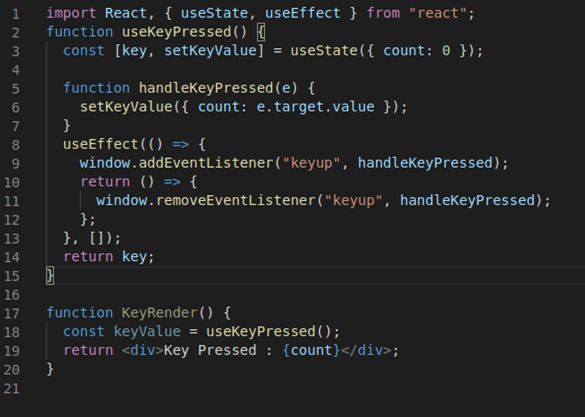 useEffect stops it from being spread across three different lifecycle hooks. We can use the same hooks useEffect when we need to update something after every render, code won't become increasingly nested.
useState allows us to use the stateful logic in functional components. In the above example, we are using useState to maintain the key-p